In late 2021, Snap One introduced their new Episode WAKE in-wall amplifier wall module. This device is designed to be mounted in a
deep single-gang wall switch socket. It can also be mounded in an open-back low-voltage wall box, since its 15-volt power supply is located remotely. The device incorporates Bluetooth technology along with AI-based WiFi smart technology and Class D amplifier topology to
provide a device that supplies 25 watts/channel of power to a pair 4-ohm speakers. This can be several speakers connected so that the resulting impedance is 4 ohms or greater. Of course. this accomplishment is made possible by recent advances in electronic circuitry miniaturization, the advent of high-fidelity Class D amplifiers, and CAD software.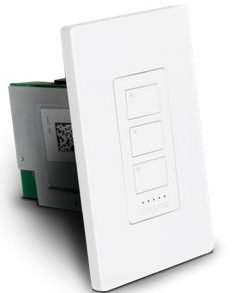 The device accepts wireless audio signals via Bluetooth as well as voice commands via embedded Alexa wi-fi technology to provide high-quality sound to remote wired speakers. The device can be configured and controlled with a mobile app running on Android and iOS devices. Users simply ask their voice assistant to play their favorite artist, and music automatically plays through the entire audio system. The app offers instant control of volume, LED brightness, and options to
set the hard buttons to control either volume, playback or functions such as high-pass filter, or bass and treble controls. Additionally,
the app also allows integrators or users to name each amplifier zone. And for total control, the WAKE Amp's built-in buttons can also control the music.
The image to the right shows the connection diagram for the installation. A separate included power supply must be connected to provide the power needed by the device. If an existing amplifier and in-wall controls are being replaced, the power supply can be located where the old amp was located and connected using the same wires used for the old amp.
Then the old speakers can just be connected to the new WAKE amp unit. Any type of standard speaker can be used, but SnapAV has a line of
speakers that can be used with the unit. The company provides a 2-year guarantee for the WAKE module.
Additional Information
In March 2022, John Sciacca published a detailed review of the Episode WAKE amp. The detailed user manual can be downloaded here. The manufacturer's information page can be found here.